Associated Adjusters Sdn. Bhd. (AA), previously known as Richard Brooks International Adjusters (M) Sdn. Bhd., was established more than 20 years ago. Over the years, AA has undertaken various insurance tasks assignments.
Although the company has been dealing with all classes of insurance, it has indulged itself more aggressively on the motor claim adjustment and investigation sector. Thus, with its sound base in motor adjusting the company is moving into its next phase of development by expanding into non-motor business. Read more...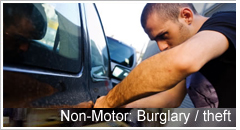 Claims Investigation and Adjustment Expertise for Motor and Non-motor.
Read more...




Unit C-9-1, Block C, 9th Floor,
Megan Avenue II, No.12,
Jalan Yap Kwan Seng,
50450 Kuala Lumpur

Tel No: 03-2166 6330
Fax No: 03-2166 6110
Email:info@associatedadjusters.com